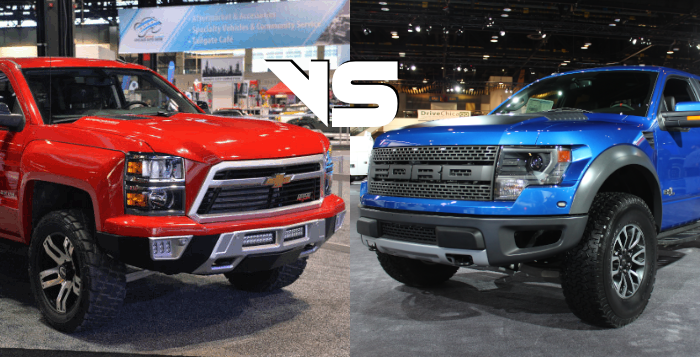 Chevy Reaper vs Ford Raptor
It's about time Chevy produced their own version of a serious off-road truck, but will it be good enough to last? When looking at a few of Chevy's previous pickup debacles, it's only natural to be a little skeptical. For example, we all had to endure Chevy trucks like the Avalanche as it did its best impression of an 8th-year college senior trying to decide its major: "Should I be a terrible pickup? Or an even worse SUV?" And the smaller Colorado truck didn't exactly "wow" anyone, and it eventually had to take a break and start over. So it raised the question: Will the Reaper actually serve a purpose in the truck world? Or will Chevy take another one up the tailpipe?
Read More: The Ram Rebel Is Coming – But Is It Raptor Competition?
The all-new Chevy Reaper really has only one other competitor to outperform, the Ford Raptor. Since 2009, the Ford Raptor has been one of the only radical half-ton pickup trucks with a terrain-hungry demeanor on the market. Ford got it right by building a pickup with well over 400 horsepower that could tear up the back 40 and still remain poised enough to double as an everyday driver.
At first look, the Chevy Reaper is essentially a "roided" out version of a 2014 Silverado, which is a very good truck. With the help of Southern Comfort Automotive, the Reaper features some pretty attention-grabbing visuals. Mud-thirsty black beadlock rims wrapped in BFG rubber, a pissed-offed looking front-end and massive fender flares should all be good enough to get any redneck aroused. However, after noticing a few details, I have to fault Chevy for awkwardly photo-bombing Ford a little bit. I just can't help but to call the Reaper out for doing its best impression of a "creeper" on the Raptor.
The Reaper? Really? Is it just me or does Reaper sound a little bit too much like Raptor? It's not just the name that's eerily similar to Ford's version of an off-road truck, there's more. The Reaper, like the Raptor, also features a Fox Racing suspension, a very similar skid plate peeking out from its undercarriage and almost identical rim offerings. Not to mention the Reaper basically has the same "shredded" (or whatever you call those) looking graphics awkwardly pasted onto its truck bed. I'm not saying Ford's look good back there, but they at least came up with the awful idea first, right?
Ford Raptor vs Chevy Reaper
Ford Raptor
Chevy Reaper
Engine
6.2-liter V-8 (411 HP)
5.7-liter V-8 (475 HP)
6.2-liter V-8 (550 HP)
Headlights
HID Xeon Headlamps
HID Xeon Headlamps
Suspension
Fox Racing Equipment
Fox Racing Equipment
Rims
Standard 17-inch beadlock
Standard 17-inch beadlock
Optional 20-inch
Exhaust
Corsa
Corsa
Where it looks like the Reaper will at least separate itself from the Raptor is with engine performance. Packing a more potent punch under the hood, select Reaper models will be able to churn out as much as 550 horsepower thanks to an available 6.2-liter supercharged engine, which trumps the 2014 Raptors only engine offering by nearly 140 ponies.
Read More: Ford Raptor Getting EcoBoost V-6 And Aluminum Body In 2017
Before anyone decides to hand over the off-road crown to the Reaper, I would like to point out the fact that Ford is more than capable of upping the ante in terms of power. I don't know how many of you follow the off-road truck world, but for 2013 Raptor models, Ford did produce a limited production Shelby edition which featured a 575-horsepower engine. As far as I can tell, Ford hasn't issued a Reaper rebuttal with the return of the Shelby nameplate for future Raptor models as of yet, but I'm sure we'll see something.
Winner of the CarDebate: The Ford Raptor
It's really hard to say which truck is a more capable option. Both trucks are outfitted with some serious terrain-hungry equipment, and both really do look impressive (apart from the rear graphics). The only concern I have with the Reaper, is that it might just have too much power. I know, a truck with too much power sounds about as logical as a basketball player that can jump too high, but there is some reasoning behind it.

The Raptor has earned its merit because of its handling and feel; I'm curious to see if all that extra horsepower the Reaper harnesses will affect its driving ability or not. Nothing is more frustrating to a serious auto enthusiast than a lack of vehicle composure, which is certainly required to accomplish harry off-road maneuvers. Perhaps too much power is why we don't see a 575-horsepower Shelby Raptor anymore. So for that fact alone, until both trucks can actually square off in a real driving situation, I'll have to keep my money on the tried-and-true Raptor.

<!-comments-button-->