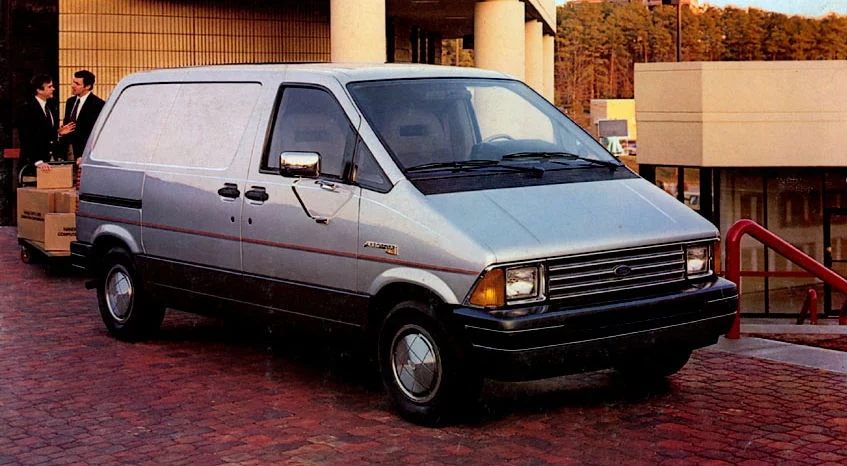 If the words Aerostar, Windstar and Freestar mean anything to you, you know that Ford is responsible for some of the best minivans ever made. Beginning with the first model Aerostar in 1986, Ford's snub-nosed minivan set the standard of what would be created by automotive manufacturers in this class for decades.
The Aerostar was also the first minivan in the United States to feature upgraded, luxury packages. With an XLT package, and Eddie Bauer trim levels, the Ford Aerostar allowed drivers to bring passengers, cargo and more in style. For the first time, drivers could take advantage of the versatile and reliable minivan platform, without sacrificing comfort and convenience.
Does Ford Still Make a Minivan?
The Aerostar continued in the mid-90s as the Ford Windstar. The Windstar was a complete reinvention, shifting the drivetrain from RWD to FWD, and bringing the flagship minivan more in line with current minivan design. The Windstar became the Freestar in the early 2000s, lasting until the 2007 model year, with the final Ford "Star line" minivan rolling off the assembly line in December of 2006.
While we don't know for sure what was behind Ford's decision to discontinue their family-marketed minivan, we can take a guess. For starters, Ford has extended their reputation for reliable cars and trucks into the crossover market. With options covering a wide range of size and seating configurations (everything from the subcompact Ford Ecosport to the boxy family hauler Ford Flex), crossovers have become the new favorite for family vehicles.
Ford's versatile crossover line has a vehicle that can meet almost any need. Do you have a small family? Go with the popular 2018 Ford Escape. Big family with lots of stuff to haul? The 2018 Ford Expedition has your back.
Although crossovers and SUVs provide some distinct advantages (presence of AWD, higher ground clearance, and uni-body construction), the market for minivans hasn't completely died, and neither has Ford's commitment to providing drivers with a competent and compelling option.
Good News: Ford Still Makes a Passenger Minivan
Although Ford's marketing has shifted toward promoting their incredible range of crossovers and SUVs as family choices, they still offer a more traditional minivan in the Ford Transit Connect Passenger Wagon. Utilizing the same body construction as the Ford Transit cargo van, the Transit Connect Passenger Wagon features up to 7 seats, and plenty of standard safety and comfort technology.

Lower ride height (easier in and out), sliding doors and greater visibility are among the reasons people still prefer vans for transporting their families. Additionally, the more contoured shape of most crossovers (not looking at you, Ford Flex) means that vans provide better cargo room! Family of four traveling cross-state with three suitcases? A Ford Explorer should be a great option.

Family of six, with a dog and 10 bags going cross-country, however, and the Ford Transit Connect Passenger Wagon starts to look a lot more up to the job.

Ford has a sterling reputation across the spectrum of vehicles they manufacture. Although the Transit Connect Passenger Wagon isn't among their more well-known, it's among the most competent and best value options in the minivan class.

<!-comments-button-->