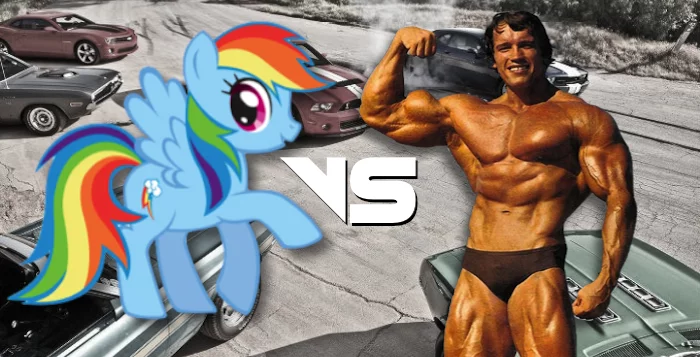 Pony Cars vs Muscle Cars
You've probably heard the terms pony car and muscle car thrown around in conversation and online when referring to Camaros, Mustangs, Challengers and other cars in this pocket of the auto industry. The problem with a lot of the Internet (and most of my friends) is that they are wrong about a lot of things, including the use of these words. While pony cars and muscle cars share some characteristics, and certain vehicles qualify as both, the two terms are not interchangeable. I'll help clear the air so you can go from ignorant bystander to pretentious snob ready to criticize anyone who uses either term incorrectly.
Pony Cars
The origins of pony cars trace back to the launch of the Ford Mustang in 1964. The Mustang was the first model to feature the now iconic stallion logo, hence the term "pony car." As the first of its kind, the '64 Mustang provided, and still provides, the template for what makes a pony car. Here are the criteria:
American-made
Two-doors, four passengers
Styling that includes a long hood, short deck, and open mouth
Built with mass production parts
Affordable base price with an abundance of available upgrades
Although the Mustang was the first pony car, it opened the floodgates for competitors trying to match its combination of performance, style, and affordability. Through the years, many automakers have tried their hands at creating pony cars, as vehicles like Pontiac Firebird, AMC Javelin, and Plymouth Barracuda have all come and gone. But not all pony cars have been phased out, and an elite group has stood the test of time. Today, the Ford Mustang, Chevy Camaro, and Dodge Challenger carry the torch as the current generation of American pony cars.
Muscle Cars
Like pony cars, muscle cars are American-made two door coupes, but with a larger emphasis on performance and power. Typically, muscle cars will be equipped with a V-8 engine and rear-wheel drive and have space for at least four passengers. While the origins and criteria of muscle cars aren't as clearly defined as they are for pony cars, many people consider the 1949 Oldsmobile Rocket as the first true muscle car.
What most will agree on is that muscle cars are built for straight-line speed and raw power. Through the years, automakers have built legendary muscle car models like the Pontiac GTO, Chevy Chevelle SS, Plymouth Barracuda, and Dodge Charger, which is still in production today.
Can Pony Cars be Muscle Cars?
Absolutely. And vice-versa. Think of it like a baseball player on steroids. Before he used performance enhancing drugs, the player — we'll call him Barry — was a good athlete that commanded a salary most teams could afford. After taking steroids and adding a ton of power, Barry wants more money for his dramatically improved performance.

Pony cars that also are considered muscle cars are no different than Barry. While a base Mustang (pony car) is affordable to most drivers, upgrading to a 2014 Mustang Shelby GT500 with a 662-horsepower supercharged V-8 would qualify the Mustang as both a muscle car and a pony car. Those performance upgrades come at a price, however, making them less common than pony cars.

The golden age of muscle cars is in the past and most automakers no longer offer a true, stand alone muscle car, but rather upgraded versions of their pony cars. While the classics are still around, they are becoming more and more of a rarity on the road.

<!-comments-button-->