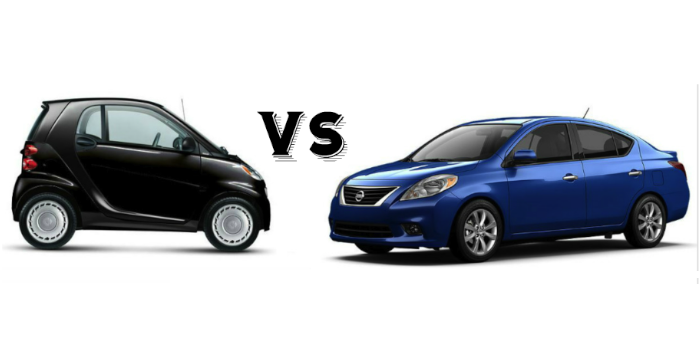 That depends on the question. Probably not, though.
A lot of people hate smart cars. In fact, there exists not one but two Facebook pages dedicated to the hatred of smart cars: "I Hate Smart Cars!" and the slightly more emphatic, "I HATE Smart Cars!!!!!!!!!" Comments range in tone and tenor, but the general idea is that they're "soooo annoying" and the people who drive them are self-satisfied "tosers" (He may have meant losers).
If you're considering getting one, though, you're probably not among the haters and are already well-versed on what haters gonna do. What you need is some practical information about whether what's good about smart cars is actually any better than a small, inexpensive sedan.
To that end, we're going to compare the 2014 smart fortwo pure 2-door coupe, smart's most basic model, with the 2014 Nissan Versa S+ 4-door sedan. We've gone with the S+ because it's actually closer to the smart in price than the base S model, and its 2-speed CVT gives it a more competitive MPG rating.
Smart fortwo pure vs Nissan Versa S+
| | Smart fortwo 2-door coupe | Nissan Versa S+ |
| --- | --- | --- |
| MSRP | $13,270 | $13,790 |
| MPG city/hwy/combined | 34/38/36 | 31/40/35 |
| Max. luggage volume | 12.0 cu. ft. | 14.9 cu. ft. |
| Exterior Length/Width | 106.1"/61.4" | 175.5"/66.7" |
Price: About five hundred bucks difference. In the big picture, not too significant. On a monthly payment scale, negligible. If you're drawn to smart cars under the assumption that they must be cheap, you might want to think again.
Fuel economy: This one feels particularly embarrassing. The Versa even tops the smart in highway rating. Whaaaat.
Cargo capacity: It doesn't really come down too solidly for anybody, and it's the Versa's fault for not having a folding back seat. Who doesn't have a folding back seat nowadays? Weird. What the Versa does have is a back seat with space for three people, and while that might not be an everyday necessity for you, it might be nice as an option. Again, for the same price.
Size: People really like to talk about the smart car's advantage when it comes to parking. If you do a lot of parallel parking in abnormally tight spots, then for sure the length difference is going to be your best friend. But when it comes to parking lots, ramps, and garages, that width discrepancy of about five inches isn't going to give you much of an edge.
—
So, if the smart car isn't considerably better on price, gas mileage, or the average parking situation, what exactly is the benefit? Here are some reasons you might still want to get one:
You just love them. Some people simply adore all things small. You probably also prefer sliders to full-sized burgers, and you wash them down with those runty little soda cans. You love it when things are wee. Nothing to be ashamed of.
You want people to talk to you about your car. If you drive a smart car, then you are the owner of one of those things that make people want to come up and talk it out with you. Like a frisky little puppy or one of those hats that dispenses beer. This will probably be fun for a while. Will it be fun for a year, or when you're having a shitty day? Maybe if the people are always well-groomed and polite. But they won't be.
You deliver pizza. A lot of food delivery joints seem to get great use out of smart cars these days. They're easy to customize with wraps that make them a constant source of advertising-on-wheels, and they're just the right size for a guy and a pie.
You only have street parking at your apartment and workplace and the two are a short city drive apart and you have a phobia of public transportation. Fine, get a smart car.
Bottom line: The need for cheap cars with great mileage is a real thing, but smart cars hardly impress in either area compared with small sedans on the market right now, making them a questionable choice for most people.
Winner of the CarDebate: Nissan Versa
<!-comments-button-->