The Chicago Auto Show has become an annual tradition that I absolutely love, and 2019 may have been the best of the best, despite a couple of noticeable absences.
The lineup of new vehicles at the show is awesome, and I encourage anyone attending to make sure they see which vehicles are breaking in the automotive world in the coming year or two.
Seeing names like the Chevy Blazer and Toyota Supra return to the fold is sure to hit you right in the nostalgia bone. You'll also get a chance to check out the Audi e-tron, Jeep Gladiator, and the Kia Telluride, which all starred in Super Bowl commercials. Take a look at this list of all the debut vehicles from the 2019 Chicago Auto Show and make a point to see them, because that's a big part of what makes this show so cool.
There is so much more to the show than new vehicles, however. And as I got a chance to walk around the showcase, here are the things you need to do and see at the 2019 Chicago Auto Show.
LEGO Chevy Silverado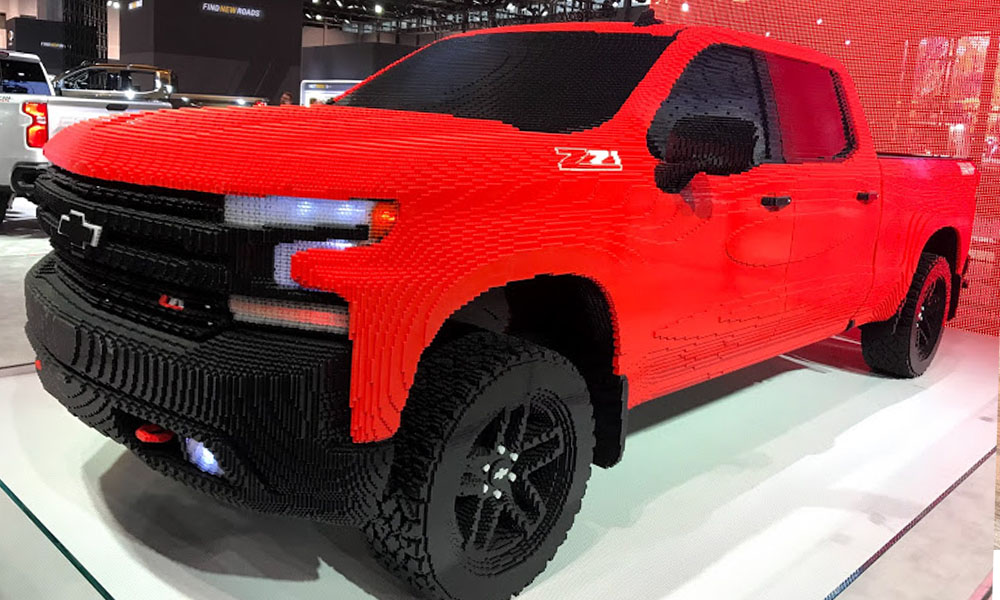 During Chevy's press conference, they made it a point to let us know they were bringing the "show" back to the auto show. While their presser didn't exactly scream excitement, they have one of the most impressive displays of the show with a Jerry Jones size-approved high-definition screen backdropping two of their new trucks.
Nearby that display is a 3,307-pound Chevy Silverado constructed of 334,544 LEGOs. The bright orange truck is everything a LEGO-head could dream of, and for the kids (or the kid-at-heart), Chevy is hosting a "build your own LEGO" truck area where everyone can make their own little Silverado.
Infiniti Prototype 10
Hands down, this is the coolest vehicle here. While concept cars don't usually get my juices flowing, the Prototype 10 is such a cool idea. With a nod to classic speedsters but a design that looks like something out of 2080, this single-seat bullet is worth a trip to the Infiniti display at the 2019 Chicago Auto Show.
Simulators, test drives, and games
If you're looking for something a little more interactive, the Chicago Auto Show delivers in a big way. Ram, Jeep, and Land Rover all host test tracks where you'll be chauffeured around a controlled track. The Land Rover track was decent, although a little slow moving. I'd recommend giving the Jeep course a try.
The Ford display features a driving simulator and some netting suspended about 10 feet in the air. I didn't see any auto journalists crawling through the netting, so I'm honestly not sure if it's something for the kids to play in or just part of the display.
Volvo has a couple of virtual reality driving simulators — one to showcase their autonomous driving capabilities and the other to highlight their advanced safety features. The VR experience is pretty immersive with goggles and headphones, and there are a few interactive aspects to the videos that really bring it to life.
My personal favorite was the pop-a-shot game in the Kia area. They are well-constructed, sturdy machines with a high-quality basketball that makes for an addictive combo. I scored a 25.
2020 Jeep Gladiator pickup truck
I mentioned a few of the new releases worth a closer look in the intro, but the Jeep Gladiator deserves a little extra attention. Coined "the only open-air pickup truck in the industry," this stretched-out looking Wrangler truck screams concept, but will be rumbling its weird ass down the highways in a couple of years.
The Rubicon model is on display and completely opened up. Take some time to sit in this freak of a pickup truck and prepare yourself for a life where this thing exists.
Super Car display
This is pretty self-explanatory. From Bentley to Lamborghini and Rolls Royce to Bugatti, there are millions and millions of dollars worth of cars in this area. While the display hasn't changed much year over year, this is a must-see for a first timer to the Chicago Auto Show, and always worth another look for the CAS veterans.

The Chicago Auto Show is absolutely great year after year. While I called out a few of my favorite things, there is so much more to take in. Get in the cars, ask some questions to the attendants at each display, and soak in the automotive excellence that surrounds you.

<!-comments-button-->