Even before Toyota pulled the sheets off their trio of new 2019 TRD Pro models at the 2018 Chicago Auto Show, it was clear that the Tacoma was going to stand out from its off-road-friendly brothers. That's because the compact pickup was the only TRD family member that had a hard-to-ignore bulge protruding from the top of the form-fitting cover draped over it.
When the curtain was finally lifted during the early-morning news conference, all eyes fell on the bulge-inducer, which was revealed to be a long, black, external air intake pipe. Officially branded the "Desert Air Intake," the pipe looks a lot like a snorkel, which is fitting, as it actually serves a similar purpose.
Benefits of the Toyota Tacoma Desert Air Intake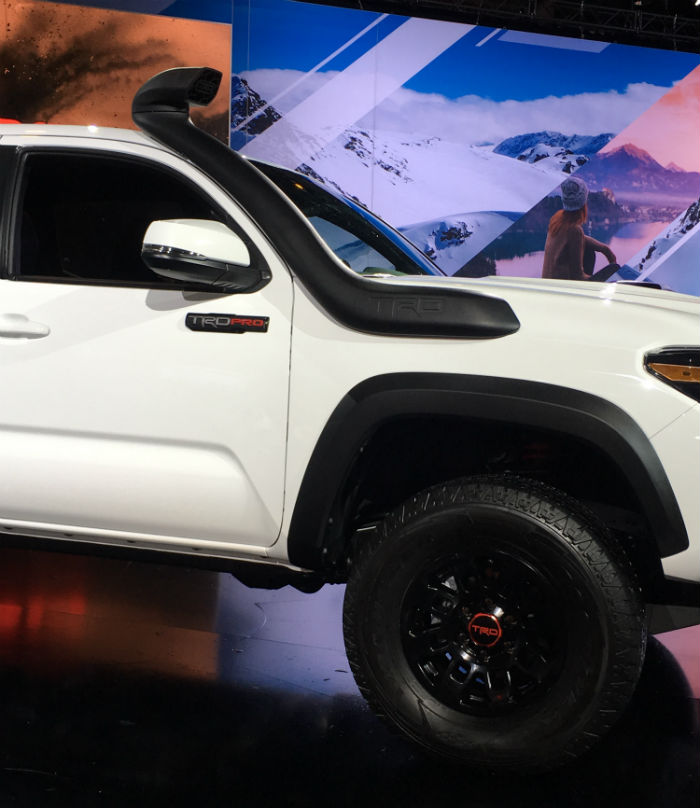 Traditionally, air intakes are located within the wheel wells. This is just fine for pavement-exclusive rides, but on a more rugged vehicle built for the trails, the low placement of the intakes causes them to encounter quite a bit of dirt, sand and other debris when they kick up the dust. By extending the pipe up along the windshield and above the roofline where the air quality isn't quite as tainted, the intake system doesn't have to work as hard to strain out the impurities, meaning the engine inhales cleaner air at a faster rate.
There are some obvious performance-enhancing benefits that come courtesy of the Desert Air Intake, but Toyota also expects the feature to prolong engine health. In the long run, it should save owners on parts costs as well, as the filters should—at least theoretically—take on a longer lifespan.
Benefits aside, it is safe to say that the scuba diving Tacoma look is not going to be for everyone. That is something that Toyota seems to fully understand, as they have made the Desert Air Intake optional, rather than mandatory.
New Off-Road Features of the 2019 Tacoma TRD Pro
In addition to the unique air intake, the Tacoma TRD Pro has been outfitted with a wide range of updated features and a fresh suit of armor—available in Super White, Midnight Black Metallic and Voodoo Blue—that prove the truck was bred for off-road performance.

The new lift-increasing springs, black chrome-tipped cat-back exhaust and TRD-encrusted skid plate were updated in-house by the engineers at Toyota Racing Development (TRD), but Fox—a well-known name in off-road performance—was called on for the revamped 2.5-inch front shocks that take on larger 46mm pistons and more bypass zones to help cushion the ride.

Joining the interior party is an Entune Premium JBL audio system that comes standard. Both inside and out will be new TRD Pro branding that consists of the well-known emblem stitched and stamped just about anywhere that you can imagine. That includes the headrests, floor mats, wheels and back bumper.

For those who are curious, although the 4Runner and Tundra TRD Pro models that also debuted at the Windy City event have been equipped with many of the features listed above, neither will offer the Desert Air Intake or any special breathing apparatuses for their engines. The snorkel is a feather that will be unique to the cap of the Tacoma TRD Pro.

Those looking to dive into the latest version of the Toyota Tacoma TRD Pro won't have to wait too much longer. Toyota anticipates that the entire line of all-new TRD Pro models will be available in the fall of this year.

We want to know what you think of the aesthetics of the Desert Air Intake. Let us know in the comments below!

<!-comments-button-->