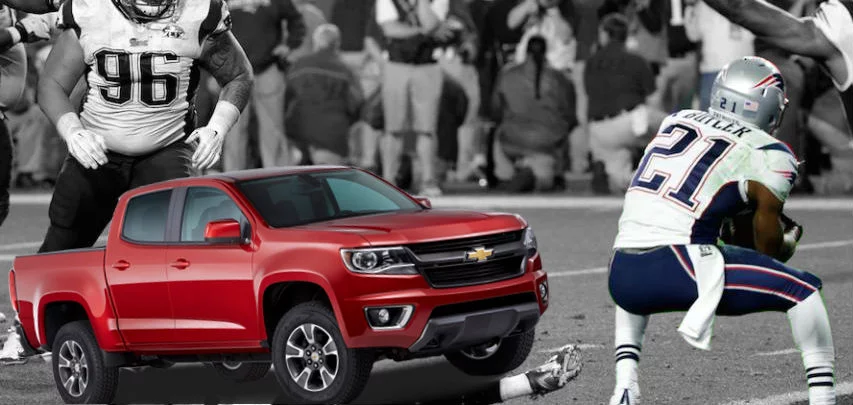 What kind of car (or truck) does 2020 Super Bowl 54 MVP win?
Well, it seems they probably won't win any vehicle. Unbeknownst to many, the promotion hasn't happened for a few years now, with Von Miller being the first to be snubbed of a new Chevy. And that clearly wasn't a known fact, as there was a lot of buzz around Tom Brady giving James White his Super Bowl MVP ride for his performance three years ago, ala Malcolm Butler. But alas, there was no truck to give. That's right folks Big D*** Nick didn't get a big d*** truck for his epic Philly Philly performance two years ago.
But for a moment, let's pretend there is an automobile giveaway again this year. Beyond the antics of giving trucks to teammates and the unforgettable Chevy guy, it was a cool moment for auto fans, as it was typically a model that had our intrigue already, which made the post-game ceremonies somewhat bearable.
Given recent history, and the focus on the brand right now, you'd have to believe that Chevy, given the chance, would give away a brand new Chevy Silverado, right? After all, the brand did roll out a brand new 2019 edition last year to much fanfare.

And who would win the Super Bowl MVP car or truck? The money would have to be on Patrick Mahomes or Jimmy G. Quarterbacks have a huge advantage in this category, and with his ninth appearance in the big game, even I have to admit he's the GOAT. But, it's happened before – see Von Miller above. Nick Bosa sliding in there? Who knows.

Who knows, maybe Hyundai will make good on Kanye's prediction and shock us all with a giveaway. But, he didn't name his daughter Alexis, so why should they? I regress…

For fun, here are how the Super Bowl MVP cars have changed over the decades. Guess we won't see autonomous or even electric cars on this list in the future. Sad.

Bart Starr – 1967 Chevy Corvette

Fred Biletnikoff – 1977 Ford Mustang (Yes, other manufacturers than GM snuck in there for a few years)

Joe Montana – 1982 Pontiac Trans Am

Steve Young – 1995 Buick Celebrity (Steve is the clear loser on this list)

Peyton Manning – 2007 Cadillac Escalade *Takes another look at Steve Young's car*

Tom Brady – 2015 Chevy Colorado

<!-comments-button-->