Today, Mitsubishi presented its GC-PHEV (Grand Cruiser Plug-In Hybrid Electric Vehicle) concept in Chicago. If the debuts of the day have been a bit lackluster, this one definitely stood out. Some things were happening. There were robot-dancers. There were confident assurances that gas prices would rise again to make this thing relevant (whew). There was poetry (no kidding). And there was one hideous vehicle at the heart of it all. Behold: 
It appears to be going for futuristic and ferocious, maybe? It just isn't easy on the eyes. Smooth lines gracelessly sharpen into hard angles, and the front end looks angry in a way that's more homely than fierce.
Let's take our assessment to the rear:
Yikes. It's not the hot kind of big ass. It's just cartoonishly bulbous. Why?
There are some cool things going on inside, maybe. This big long Tactical Table lets passengers exchange information in case everyone has laryngitis or the music is really loud.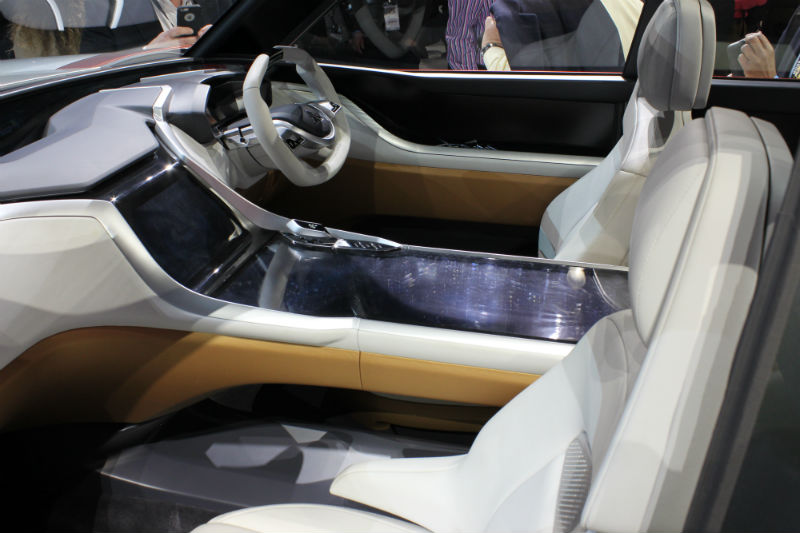 No, there are probably some great things you're supposed to be able to do with it, but the details were sparse on that and frankly that thing's probably not going to make into any production models anytime soon. Let's hope the rest of it gets toned down as well.
In closing, Mitsubishi North America Executive Vice President, Don Swearingen said,
"I'm gonna get a little poetic…

As the snow starts to melt,

and Spring's first blossom starts to bloom,

So will Mitsubishi."
Hard to say what the spring will bring for Mitsubishi, but the winter seems to be doing what winter does best: Leaving us cold and a little put off.

<!-comments-button-->