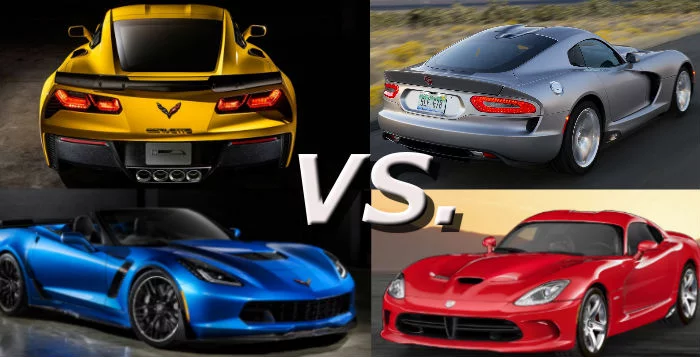 Imagine you are an engineer on the new 2015 Dodge Viper SRT. You've helped create one bad-ass supercar. But you can't sleep at night. The reason? The 2015 Chevy Corvette Z06. The new C7 Corvette was already robbing sales from the Viper – and now the Z06 comes along to do even more damage.
Before it seems like I'm stepping on the Viper too much, let me be clear – I would LOVE to own either of these vehicles. I've owned my share of Chevy and Dodge products through the years, and it's safe to say that they are my two favorite brands. But when it comes to the 2015 Chevy Corvette Z06 vs 2015 Dodge Viper SRT, there appears to be a clear victor – for now.
2015 Chevy Corvette Z06 vs. 2015 Dodge Viper SRT
| 2015 Chevy Corvette Z06 | vs. | 2015 Dodge Viper SRT |
| --- | --- | --- |
| $78,995 | MSRP | $84,995 |
| 6.2-liter V-8 | Engine | 8.4-liter V-10 |
| 650 | Horsepower | 645 |
| 650 lb-ft | Torque | 600 lb-ft |
| Yes | Auto Transmission | No |
While price isn't probably as big of a factor in this vehicle segment as others, I'm sure it does play in a bit for consumers. And this is where the troubles begin for the Viper. The Z06 is priced significantly lower than the Viper SRT. Obviously, the folks at Dodge saw a problem on the horizon when they decided to reduce the Viper price by $15,000 recently.
Simply being more expensive wouldn't be a huge problem for the Viper if it weren't for the fact that the lower priced Z06 offers more bang for the buck. The 6.2-liter V-8 engine on the Corvette Z06 has output of 650 horsepower and 650 lb-ft of torque. Yet the larger 8.4-liter V-10 on the Viper SRT falls short at 645 horsepower and 600 lb-ft of torque. The numbers don't lie – the Corvette Z06 figures are simply more appealing. Making the situation even worse for Dodge is the fact that someone could also pick up the new 2015 Corvette Stingray, which has output of 460 horsepower, for a starting MSRP of $54,000.
The Corvette Z06 might gain a few sales from its automatic transmission option as well. I'm not very fond of this personally – but it's a good move by Chevrolet. I feel that if you are going to own a sports car, you need to know how to drive stick – end of story. How could you feel good about yourself driving a high-end Corvette and not shifting it yourself? Sadly, I'm sure there is a market for this, and the paddle-shift 8-speed automatic will end up being a selling point for the Z06.
As for the styling of the vehicles, it's difficult to believe that the new Viper wasn't at least somewhat designed with the Corvette in mind. Whether looking at it from the front or back, many would agree that the vehicles look more like each other than ever. Did that come from one copying the other or just a need for certain cues to be present for performance, etc? We can't be sure.
Again, my intention is not to dump on the Viper. I actually love this car. And stats aside, what really matters is how it drives. Dodge has done an amazing job distributing weight on the vehicle, which allows it to corner perfectly. Also helping the Viper handle are features like electronic stability control, traction control, and launch control to get it off the line in a hurry. There's also nothing to say that Dodge won't come back with an even more powerful Viper next year. But at this point, both Chevy and Dodge have to be getting to the limit of what they can offer in the horsepower vs vehicle weight game. A car can only be so light and so powerful and still be a street car. They are both inching dangerously close the race car segment.

To make the Z06 lighter, Chevrolet employs an aluminum space frame, carbon-fiber hood and removable carbon-fiber roof panel. To keep this light car on the ground, downforce was key, with wider flared fenders that mesh with the aerodynamics of the entire car, creating maximum downforce. The vents on the hood also play a role in keeping the Corvette grounded.

So while the Corvette Z06 might have taken the supercar battle to the next level, it will be interesting to see if Dodge answers. Even more interesting will be which car is declared the eventual winner on world-renowned courses like the Nurburgring in Germany. Something tells me that this battle isn't over. At least I hope not. Competition brings out the best in companies – and when that happens between Dodge and Chevy – car lovers win.

<!-comments-button-->