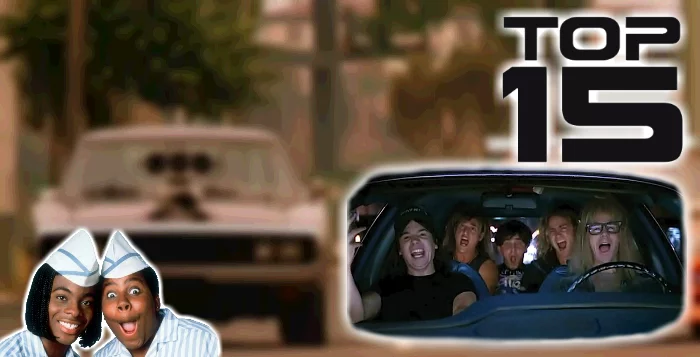 When compiling a list of the most recognizable vehicles in film and television, just about every list ends up littered with vehicles like The Bandit and the General Lee. Don't get me wrong, those are badass cars. But there have been plenty of great movies and TV shows in the past couple of decades featuring equally (I use that term loosely, in some cases) badass vehicles that tend to get overlooked because they can't measure up to the years and years of following that those older cars have built.
So what about a list of those newer cars? Where do they fit in? In a list of the 15 most recognizable TV/film vehicles to '90s kids, that's where. So, basically just a list of 15 iconic cars since 1990, but this sounds way cooler. The days of Hollywood TV show stars driving around iconic cars like KITT from Knight Rider and the pair of Ferraris in Miami Vice may be gone, but that doesn't mean there haven't been plenty of memorable cars since then in the cinematic universe, both on the big screen and small.
But let's start off our list with a couple of honorable mentions. These are great, easily recognizable vehicles, but (obviously) only to those people that watched the shows. And unfortunately, not many people watched these two shows, but I did, and damnit these vehicles need to be remembered!
Honorable Mention #2 – The Bluth Company Stair Car (Arrested Development)
In the cult television show Arrested Development, the unbelievably rich Bluth family lost their fortune. With that fortune went their private jet, but the stair car that used to get them from the ground to the jet's door could still be afforded, and was unfortunately for them the only vehicle they could afford. So Michael Bluth (Jason Bateman) could often be seen driving around town, tearing down festive banners, and embarrassing his son George Michael (Michael Cera) in this "badass" vehicle.
Honorable Mention #1 – The DHARMA Van (Lost)
Alright, Lost had a much bigger following than Arrested Development, which worked in conjunction with JJ Abrams' star power to keep the show running for what was probably too many seasons (but I ate up every single episode, even the bad ones that didn't make any sense). At one point on the island that inhabited inexplicable polar bears and hatches in the ground, Hurley (Jorge Garcia) found a broken down 1968 Volkswagen T2a van. They fixed it up, and the van was used for some much needed entertainment, as well as eventually rescue, murder, and cover (the three most important things a giant old van can give you in a TV show).
#15 – The Bus (The Magic School Bus)
Admittedly I felt like a super nerd including this on the list. But c'mon. C'MON! What '90s kid doesn't remember the Magic School Bus? This is literally the coolest school bus ever created, and I honestly hated the fact that I lived within walking distance of my elementary school because I didn't get to ride in a shape shifting, shrinking, expanding vehicle of badassery. I also never could figure out why none of my teachers were as cool as Ms. Frizzle. (Side Note to repair street cred: I did not remember her name, I looked it up. I promise.)
#14 – The Good Burger Mobile (Good Burger)
If you've never heard somebody say "Welcome to Good Burger, home of the Good Burger, Can I take your order?" with really drawn out "R" sounds on order… then you are not a '90s kid. Good Burger is an example of a skit from a television comedy skit show translated to the big screen that actually worked. And the Good Burger Mobile, a customized AMC Pacer, is the automobile version of the perhaps more iconic hamburger phone that many '90s kids have probably owned at one point. Seriously, I immediately wanted to drive around in a vehicle that had a hamburger on the hood, and promised myself I would not settle for anything less. (Unfortunately I later broke that promise, when I realized driving around with a hamburger on my hood would make me lose serious social status.)
#13 – 1973 Volkswagen Transporter Type 2 (Little Miss Sunshine)
While not a big Hollywood blockbuster film, Little Miss Sunshine was a great flick originating from the Sundance Film Festival, and pretty much the first time we saw Steve Carell in a believable "serious" role. The movie followed a dysfunctional family as they took their daughter to a beauty pageant, in a '73 Volkswagen. A majority of the film took place in the vehicle, and thus is perhaps one of the most memorable features of the film.
#12 – Ford Explorer XLT (Jurassic Park)
Jurassic Park is perhaps one of the most monumental movies of the '90s kid generation, and the main vehicle found in the films can also now be seen at Universal Studios, so you know its pretty iconic. Only two of these Ford Explorer XLT SUVs were operational during the events of the film, and they were named the EXP 4 and 5. They had a wicked paintjob, followed a predetermined path, and could be seen getting ransacked by a Tyrannosaurus Rex in a way that nearly killed a child. Why couldn't it be Jeff Goldblum?
#11 – The Shaguar (Austin Powers)
A completely underutilized vehicular masterpiece, the original Shaguar was a Union Jack paint schemed 1961 Jaguar E Type (license plate number SWINGER) seen driven by the international man of mystery Austin Powers. If ever a movie could be fantastic and terrible at the same time, it would probably be the Austin Powers movies. But the movie did give us this great car, as well as bringing back popular '70s phrases (I still say groovy today, probably thanks to these movies.)
#10 – Eleanor II (Gone in 60 Seconds)
While I've not seen the original Gone in 60 Seconds (and I'd wager a guess most other '90s kids probably haven't either), the remake was filled with sexy girls, sexy cars, and Nicolas Cage. It followed several car thiefs, including retired master car thief Memphis (yes, Nic Cage). Memphis had an (understandable) obsession with a 1967 Shelby Mustang GT 500, that he nicknamed Eleanor. Being the pivotal fast-car movie for the '90s kid generation before The Fast and the Furious, it would be a travesty if this vehicle didn't make it onto the list.
#9 – RC (Toy Story)
Okay, this one might be a stretch, but you show me one kid who watched the movie and didn't immediately ask his parents for a blue and green remote controlled buggy and I'll show you a liar! There were plenty of cool toys in the original Toy Story, but none of them outside of the big two were quite as awesome as RC.
#8 – Buck's Pussy Wagon (Kill Bill Vol. 1)
Yeah, it was called the Pussy Wagon. And I don't mean that's just what a guy named Buck called his car. I mean it literally had 'Pussy Wagon' emblazoned on the back of the truck in a psychedelic pink font. After disposing of the vile Buck, the Bride (Uma Thurman) stole the Pussy Wagon and drove the thing around in style. You want to talk about an iconic movie car moment, how can you pass up Uma trying to wiggle her toes in the back of Buck's Pussy Wagon?
#7 – Malik/Sasha (Scrubs)
This is a twofer, because a true fan of one of the greatest American comedy television shows in the 2000's can not pick one over the other. Malik was an old rusty Volvo that JD (Zach Braff) had driven since he was seventeen. I dare you to name one vehicle feature that tops memories. Precisely why Malik makes this list, and Sasha, JD and Turk's (Donald Faison) scooter they purchased after Malik blew up, is just as memorable as he drove it for the remainder of the series. Wolverines!
#6 – Gran Torino (Gran Torino)
Uhhh. What a great movie, am I right? Great acting, great themes, great stories, but most of all… great car. The extremely racist Walt Kowalski owned a 1972 Gran Torino Sport, a car that harkens back to those classic cars I mentioned earlier. While the movie is named after the car, the car doesn't have much involvement in the movie beyond being Walt's prized possession and the thing that originally brings he and Thao together. But the car is in such mint condition that I didn't need to see it go, I could probably have just stared at it in a garage for the full two hours.
#5 – Dom's Charger (The Fast and the Furious)
In a six-film series almost completely focused on illegal street racing, where probably hundreds of different cars pass through in nearly every scene, you would think it'd be hard to pick out one that's more memorable than the rest. But in The Fast and the Furious, one car definitely sticks out the most. And that's the 1970 Dodge Charger built by Dominic Toretto (Vin Diesel) himself, alongside his deceased father. Modified and souped up to not only look like a true badass, but to run like one too with its 900 horsepower engine. One thing to sum up the ultimate badassery of this vehicle is a quote from the ultimate driving badass himself, as Dom tells Brian (Paul Walker, RIP) that he's never driven it because it "scares the shit out of [him]."
#4 – The Tumbler (Dark Knight Trilogy)
Through the decades, there have been a plethora of incredibly designed Batmobiles. But in fitting with our theme, none of them have been quite as badass as the Tumbler, featured in Christopher Nolan's Dark Knight trilogy. Introduced by Lucius Fox (Morgan Freeman) at the bequest of Bruce Wayne (Christian Bale), the Tumbler was originally a prototype vehicle Wayne Enterprises was developing for military use. Equipped with tons of crazy features and weapons, the Tumbler is the ultimate Batmobile and definitely deserves its top five spot in this list.
#3 – Bumblebee (Transformers)
While the Michael Bay Transformers series has received a lot of flack from Transformers loyalists, many '90s kids (perhaps mostly of the male variety) didn't give a shit because we wanted to see gratuitous violence, sick concept cars, and Megan Fox in a low-cut shirt. And because we dared to watch the films, we immediately fell in love with the iconic character Bumblebee, who in these movies originally took the form of a 1977 Chevy Camaro, before eventually upgrading to a 2009 Chevy Camaro concept that had any sportscar enthusiast's mouth watering. A badass car for a badass character, Bumblebee definitely deserves a top 3 spot on this list.
#2 – Garth's Mirth Mobile (Wayne's World)
Wayne's World is one of the ultimate '90s films, a true cult classic and one of the few SNL skit-based films that ended up successful. Not only does Garth's Mirth Mobile make it into my top two on this list, but the Bohemian Rhapsody scene would probably make the number one spot if I were to make a list of memorable automobile movie moments. Any '90s kid with any sense has seen this flick, and could definitely recognize the flame-decaled car when packed with five long-haired rockers. And remember, if you're going to spew, spew into this!
#1 – The Crystal Ship (Breaking Bad)
I know, its not a fast car, its not a badass car, hell its not even a car. But you probably should've seen this coming. Perhaps one of the greatest television shows of this generation, Breaking Bad followed the lives of drug dealer Jesse Pinkman (Aaron Paul) and science teacher Walter White (Bryan Cranston) as they turned to a life of cooking obnoxiously pure crystal meth. And when they first embarked on their journey of felonious crime, they cooked meth in a beige 1986 Fleetwood Bounder, a recreational vehicle with most of the interior stripped in favor of the necessary items to cook Blue Sky. Honestly, this is one of the most iconic vehicles of the past decade, and could not be excluded from this list.

I'm sure that my list might have surprised some people. It's not filled to the brim with Bond cars, or super fast sports cars you've seen on tons of these lists before. It's comprised of 15 vehicles that I truly think any '90s kid who hasn't been living under a rock would immediately recognize, and vehicles that I will never forget.

But seriously, who would have thought, of all the action stars and vehicle movies and shows out there, that the one person whose films would make it onto this list twice… would be Mike Myers? Further more, who would've thought that the one vehicle make to get on the list twice would be an AMC Pacer? I don't even know what an AMC Pacer is.

<!-comments-button-->